The experiences and views of family carers are key in all our consultation responses. Sometimes we submit responses to consultations jointly with other charities and organisations interested in improving support and services for individuals with learning disabilities.  
On this page you will find a selection of the key consultations the CBF has responded to. 
If you're aware of a consultation you think the CBF should be responding to, or you would like to share comments to be included in a consultation response, please contact: nationalstrategygroup@thecbf.org.uk  
Human Rights Act Reform: A Modern Bill of Rights  
Between 14th December 2021 and 19th April 2022 the Ministry of Justice consulted on proposed reforms to the Human Rights Act 1998.  
The CBF and Mencap submitted a joint response to the consultation.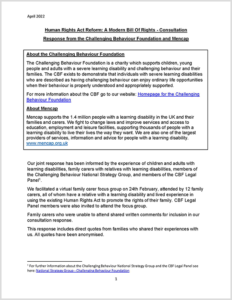 Our joint response has been informed by the experience of children and adults with learning disabilities, family carers with relatives with learning disabilities, members of the Challenging Behaviour National Strategy Group, and members of the CBF Legal Panel.  
We facilitated a virtual family carer focus group in February 2022, attended by 12 family carers, all of whom have a relative with a learning disability and lived experience in using the existing Human Rights Act to promote the rights of their family. CBF Legal Panel members were also invited to attend the meeting. Family carers who were unable to attend the focus group shared written comments for inclusion in our consultation response.
You can read the full response from CBF and Mencap here:  
CBF Mencap response HRA Reform
For updates on the consultation including the Ministry of Justice response to the consultation submissions see here: Human Rights Act Reform: A Modern Bill of Rights – GOV.UK (www.gov.uk)