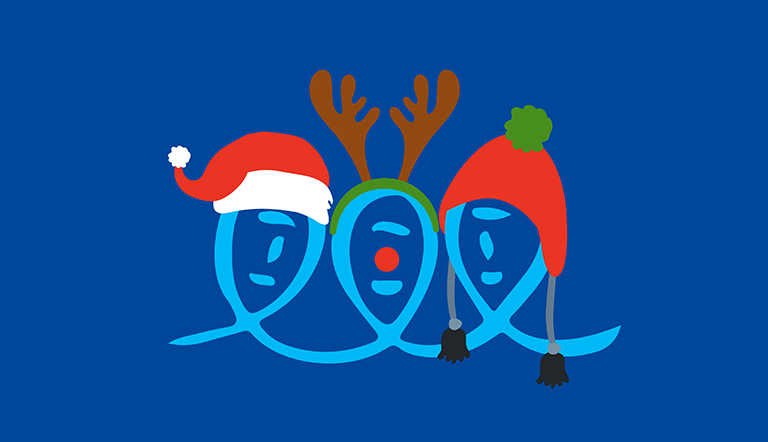 Christmas time
At a time when we are meant to feel magic, joy and happiness, sometimes the reality is that it can also be a time of grief, guilt, worry or broken heartedness.
For many of us, just because 'it's Christmas', it doesn't mean that life is suddenly a whole lot lighter. In fact, for most family carers of children and adults with severe learning disabilities, it is often a time when routines change, behaviours that challenge increase and the pressure to ensure you and your family have a 'Merry Christmas' is firmly upon you.
Perhaps you are unable to put up any decorations as they are a safety concern? Maybe you're unable to attend any Christmas events with the person you care for, as they can't tolerate the noise or number of people, and you are struggling for respite to go without them? Or perhaps you simply won't have to opportunity to spend the Christmas with your relative.
These are common challenges, but between us we have a range of ways to lessen any negative feelings over Christmas, and different ways to enjoy festivities.
We thought we would share some ideas – and hope that you will share yours too!
Social media can be a wonderful tool for connecting with support groups, and keeping in touch with family and friends, however seeing other families doing activities that are simply not an option for you and your child or relative, can bring about feelings of loss and sadness. If this is the case why not unfollow, but not 'unfriend', those on your social media friends list who perhaps post a lot during this period, and once it's all over, re-follow them! They'll never know! Remember, despite what we may think, no one's life is without some form of struggle, or free from pain. After all, we only post what we want people to see, and it's often only the good stuff!
We are all individuals, different things bring us joy, or entertain us, and this is no different for the family member we are caring for. Accepting the fact that all our relative really wants are some ribbons, or a red fleece, or that we are still purchasing preschool toys for our teenager – year after year, and embracing that is important.  The purpose of a gift is to bring happiness to its recipient, whatever it may be.
Speaking with others who understand, and have shared experiences is important – you are not alone At the CBF we have seen the value of peer to peer support and you might want to:

Join a Carers Catch Up (Online Zoom support group)
Book a Listening Ear call (individual call with a trained family carer)
Join and post on 'The CBF Family Forum' (Private Facebook Support Group)
View peer to peer support options here
Family carers are hugely skilled at making adjustments that are person centred and practical – for example:
Putting the decorated Christmas tree outside, visible through a window, if having one inside isn't possible
Using window stickers rather than hanging decorations if they will get pulled down
Ditch the wrapping paper – If your relative finds it difficult to unwrap presents, sometimes it's best to give as is, or simply pop a bow on top!
Space out visitors – If your relative finds it overwhelming to be surrounded by too many people all at once, make a little rota and decide amongst you and your friends and family, who will be visiting and when. Give a copy to care staff so they are also aware of plans, which would allow them to prompt your relative and make them aware of who will be arriving next. Make a visual copy for your relative if appropriate.
We know you will have lots of creative solutions you have found that work for your relative – so please do send them in so we can share them as they may help and inspire others.
Whatever your Christmas looks like, however you are choosing to spend it, and whoever you are spending it with, we hope you are as happy as you can be.
Merry Christmas
Support from the CBF  
Family Support Service  
We are open at the following times: 
Monday – Thursday: 9am – 5pm
Friday: 9am – 3pm  
Family Support Service Christmas closure: closing at 3pm on the 23rd December, re-opening 4th January.
We offer information about challenging behaviour to anyone who provides support to a child, young person or adult with a severe learning disability. We can also signpost you to other specialist organisations and sources of information.  
Please note we are a small support service so you may not be able to get support straight away. We will support families with urgent concerns as a priority.  
The Family Support Service is not a crisis service. If you are in crisis or our service is closed please see here for other organisations that may be able to support you.
Professionals are also welcome to contact the CBF.